Mike Wolfe "The River Queen Refit" 2005
Prop me up!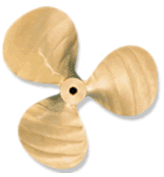 Propellers! Without them you'd just be a stinking barge.
Our pals, the propellers, are just yet another "mission critical" subsystem that work in concert with the rest of the vessel. Their ability to function gets us safely down the river and, more importantly, back home again. Believe it or not there is a lot more technology involved in the design, size and shape of the propeller than you realize. All of which play a big part of the proper operation and performance of your boat. There are a wide variety of propeller types available on the market today. You need to properly match it up to your particular boat type, drive type and horsepower. Just because the prop fits the shaft doesn't mean it will work right on your boat. The size, number of blades, the pitch and the material of construction all play a part of the overall picture of performance. Not to mention the leading edge , the trailing edge and the hub. Don't guess what your boat needs. Contact the boat manufacturer or ask someone in the business which propeller is right for your boat, engine and drive combination. There's math involved!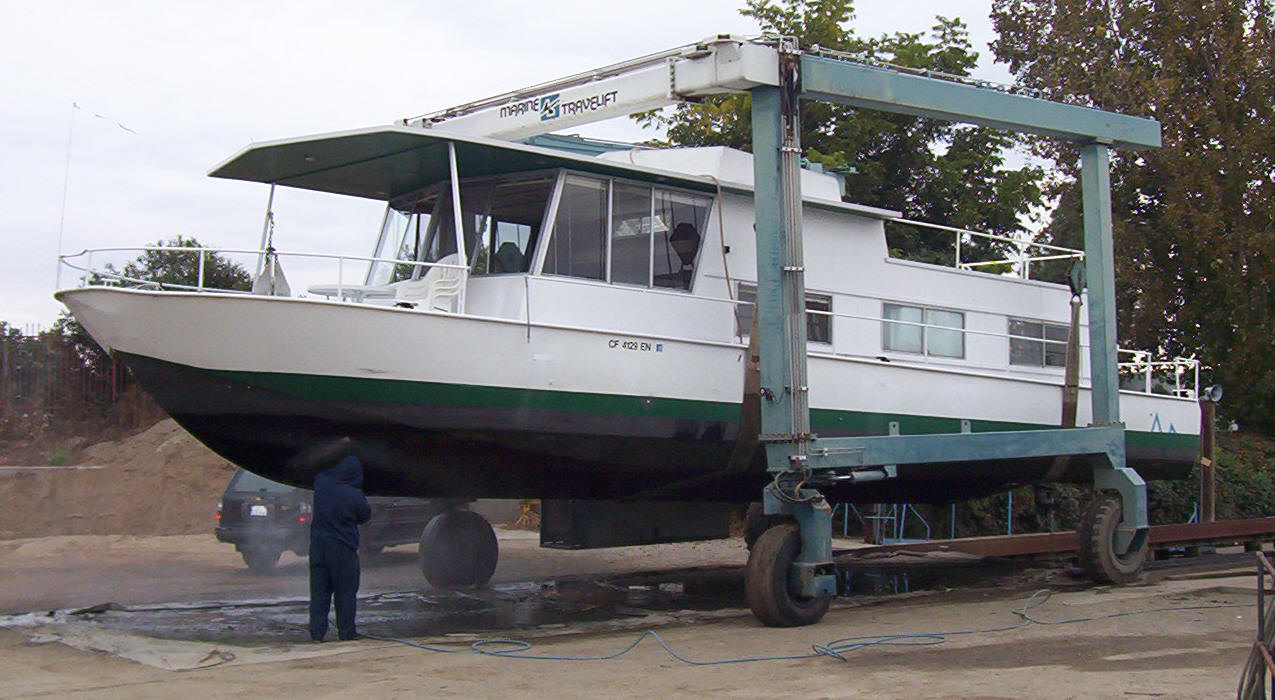 So it's haul out time and what's one of the first things you do? Yep, you pull the propellers off of course and take them off for safe keeping. Those baby's ain't cheap and we don't want them walking away. But where they really need to go is not home but right to the local prop shop. Even if they look okay to you and me, the prop may be out of whack or out of balance. Sure you can tell right off the bat if there's been forceful damage to the blades. I've seen some mighty trashed up props brought back from the dead. But it takes a trained eye and the right tools to test for some of the more subtle problems.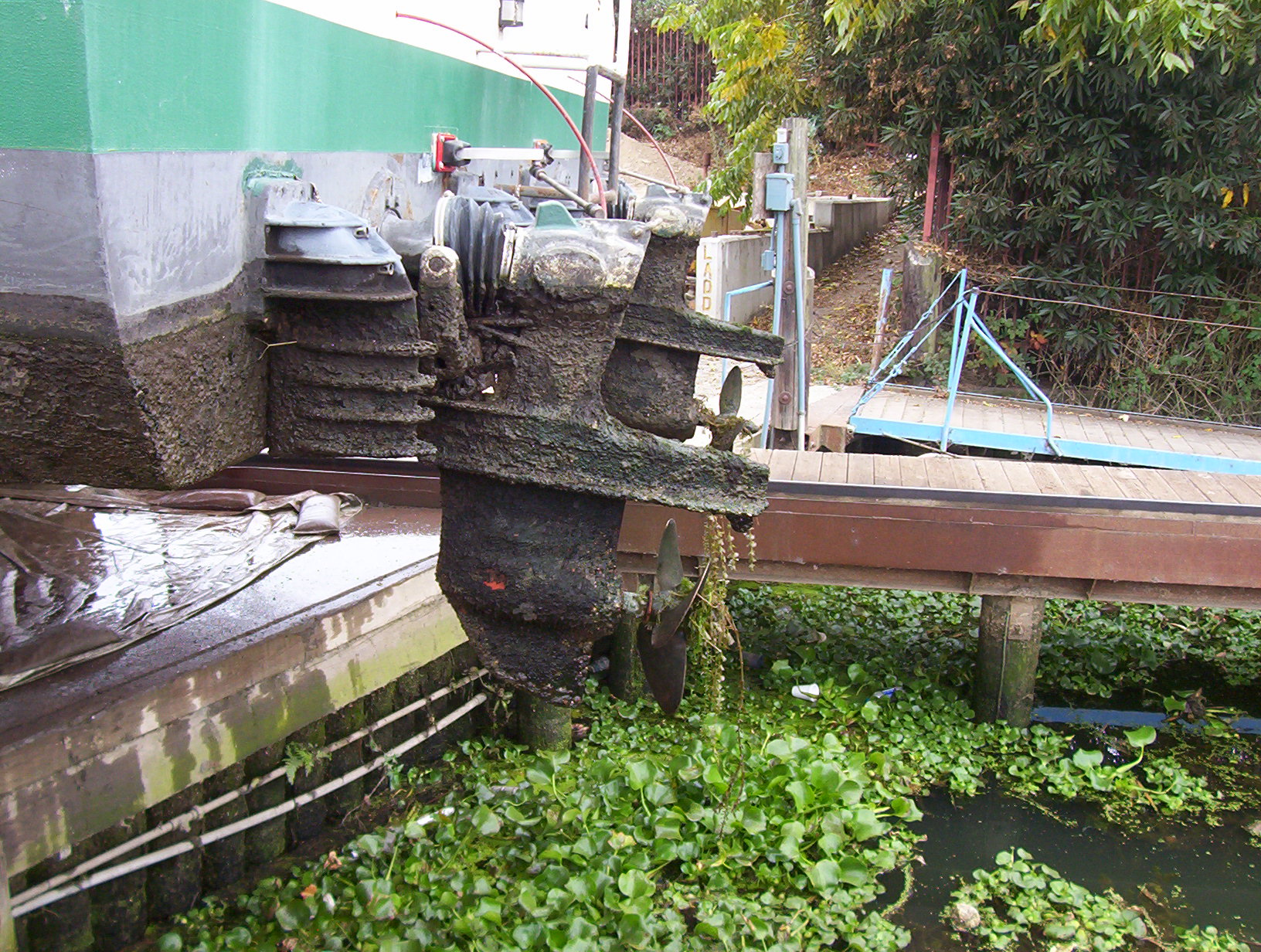 Repairing the obvious and not so obvious problems is a must. Dings, dents, and chunks missing are a major no-no and it can cost you more than you realize. A damaged or unbalanced propeller can cause you undue stress on your shafts, bearings and drive housings. It can reduce top speed and cost you gas mileage. I've even heard it can cause far reaching noise in the water that can scare all the fish.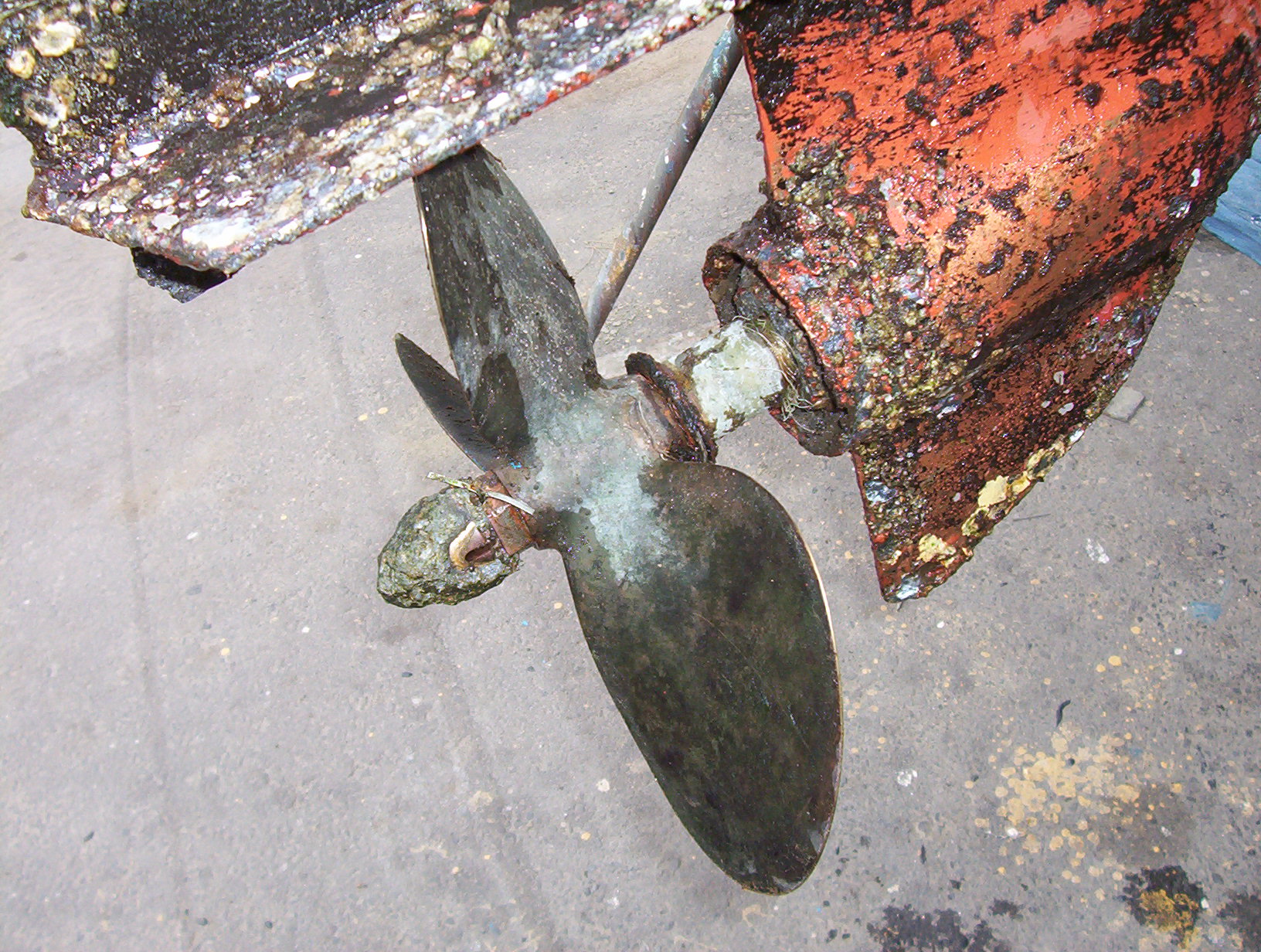 On my most recent haul out in a self work yard, of course, one of the first things I did was to mark both propellers with a metal stamp. "P" for port and "S" for starboard before they were removed from the drives. This will insure I get them reinstalled back in their right place. I also put a unique mark on each so that I might be able to pick them out of a line up. In case they get accidentally misplaced.
I took them directly to my buddy's over at Delta propeller. I knew I had a problem with my starboard side prop due to a vibration that haunted the whole boat whenever we throttled up to anything over a dead slow. Yes, I know I should have pulled it off for service sooner but hey, do as I say, not as I do. I risked shaft and bearing damage. Once on the work bench, if not for the identification marks I would have had a hard time telling one prop from the other. I know what you're thinking, but I have two "right handed propellers". I could not see any real damage but to the trained eyes of Brian at Delta Propeller he quickly pointed out one discrepancy after another. I left my dear screws in his care and returned to the task at hand of being hauled out. Bottom paint and so much more.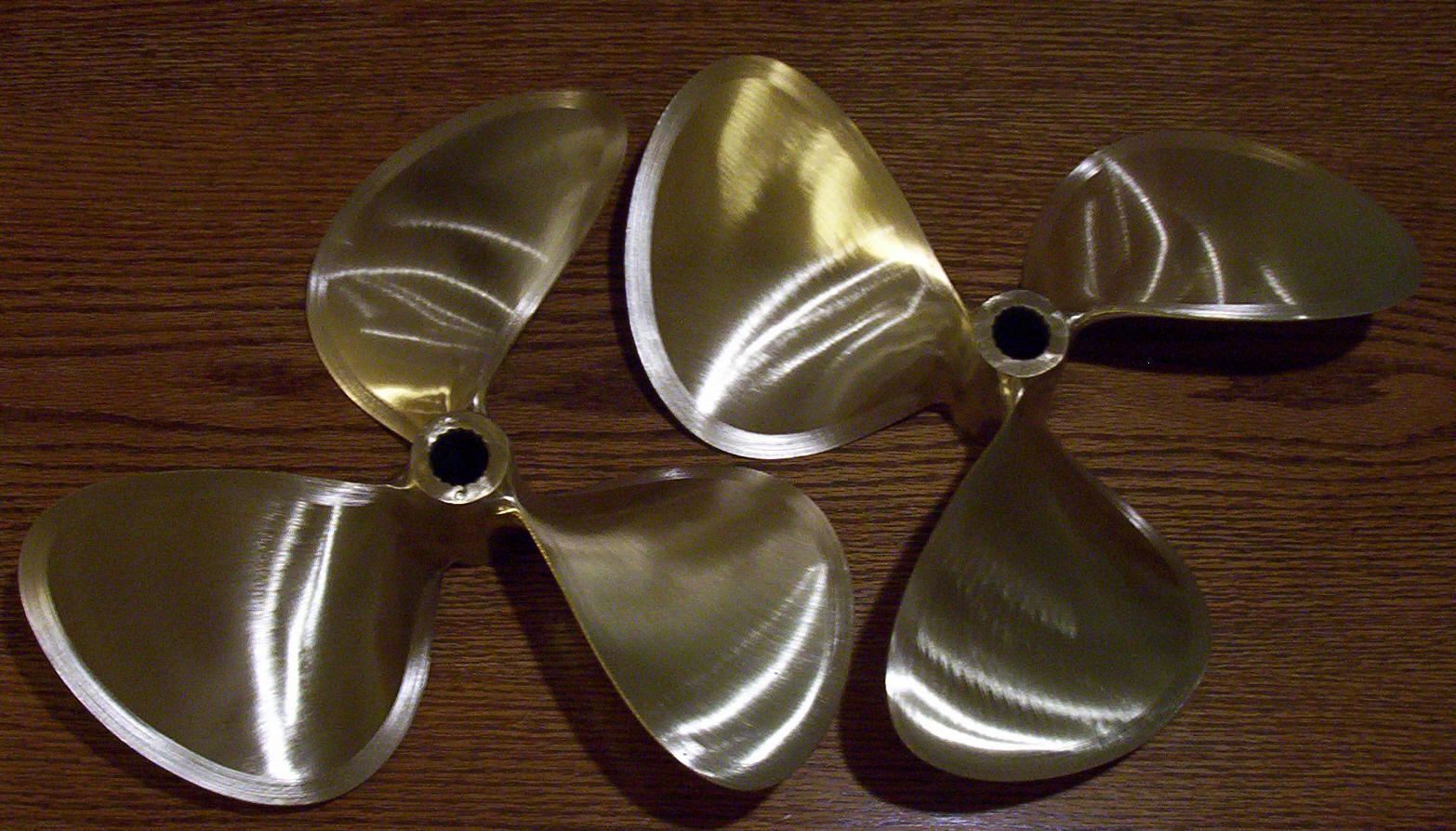 When I got my two 17 x 17 brass Dana props back from the shop I could not believe my eyes. They were things of beauty. Works of art! Worthy of a photo shoot. Yes I dare say even sexy looking. I saved reinstalling them for my very last task before splash time. A fellow boater hauled out next to me wanted to know where I had bought my new props! When I had told him they were the same ones as before he was properly amazed. I gave him a business card. "Tell them Wolfeman sent you."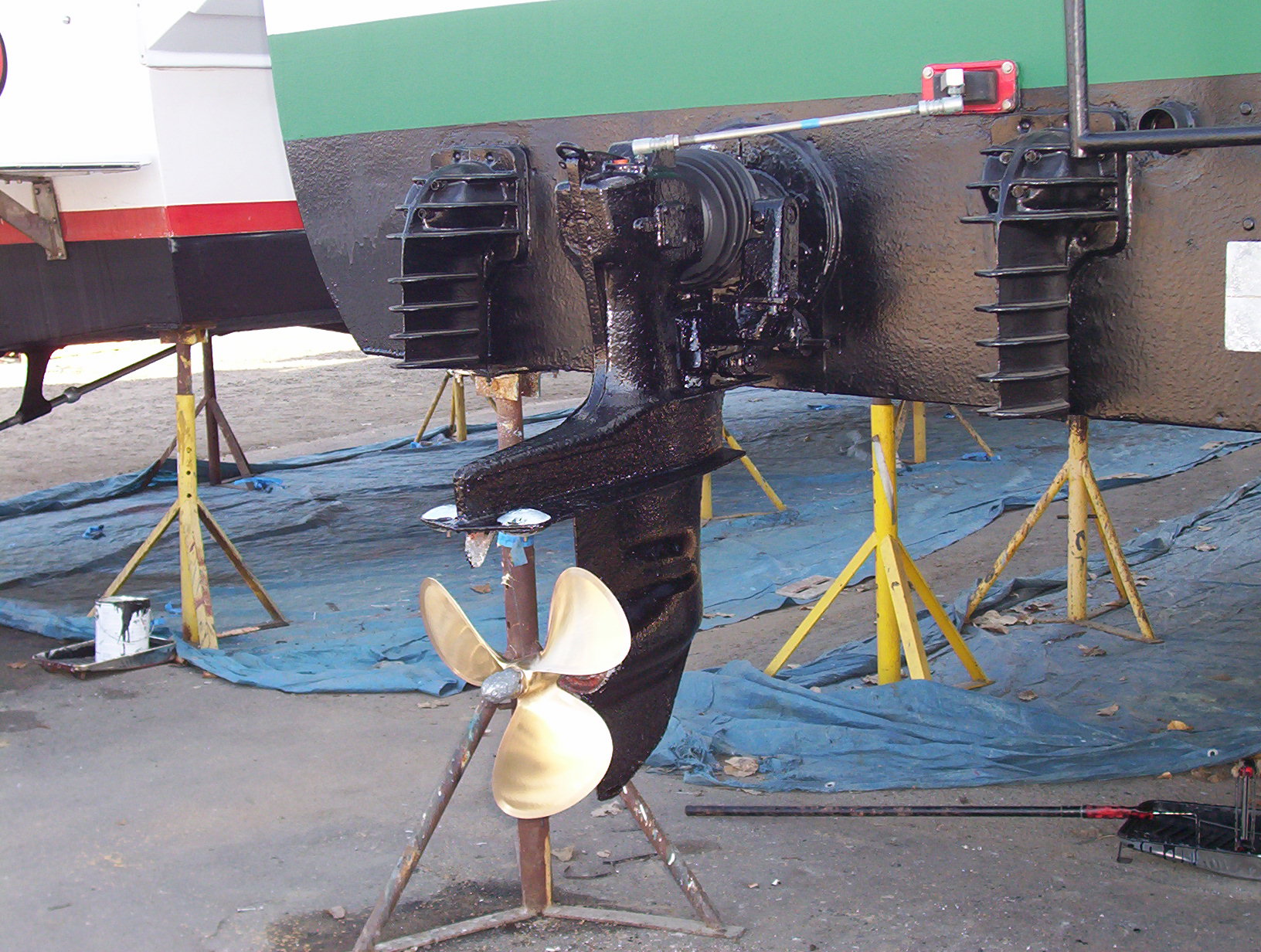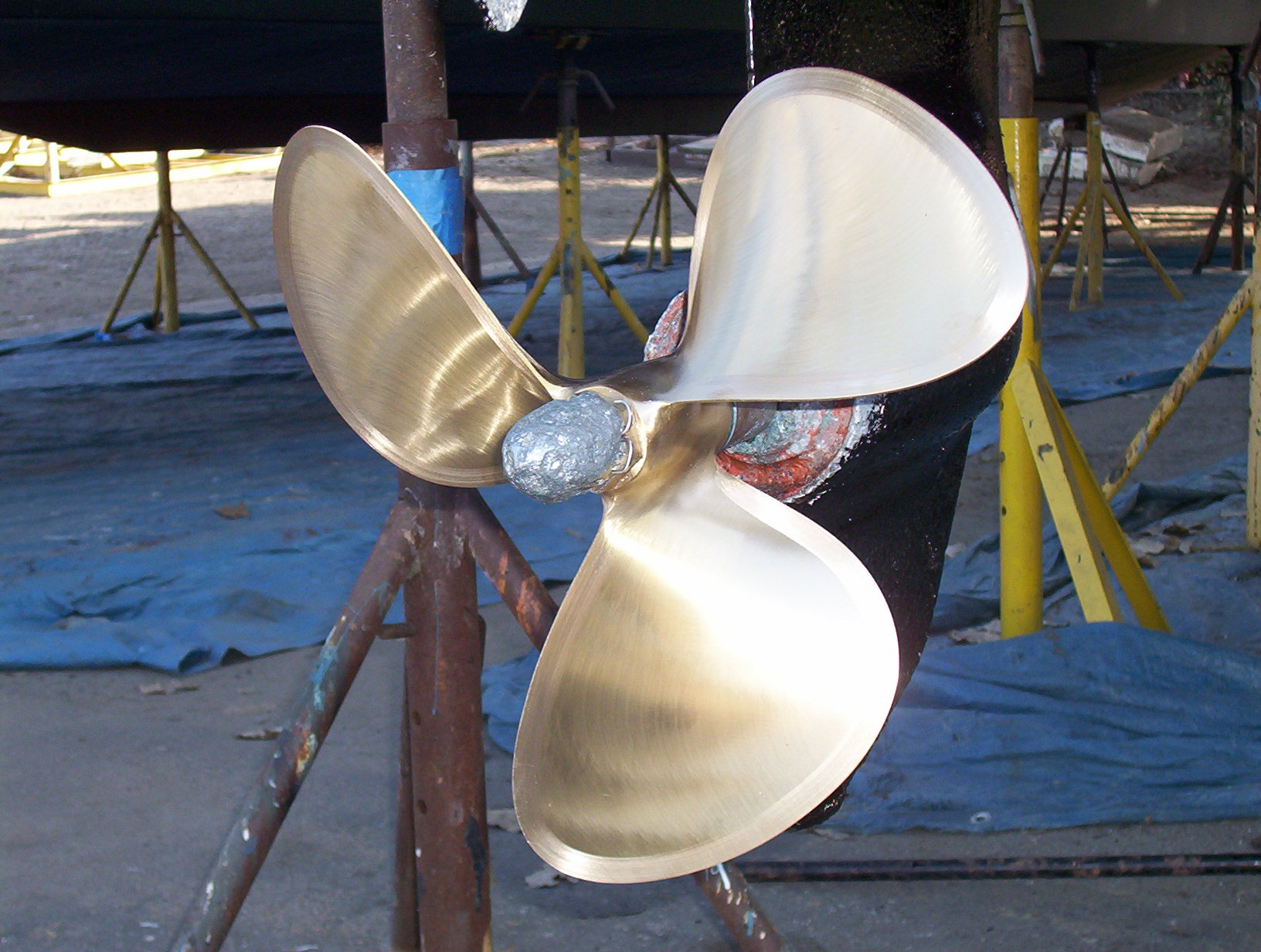 We launched at about 2pm on a quiet Monday afternoon. The seven mile or so ride home was like a dream. Fall colors red and gold lined the bank and the water was like glass. No other vessel was in sight and I had dreamy thoughts of the time of Mark Twain and early river travel. Our freshly painted hull slipped along easier than I ever remember it had. What's that noise I'm not hearing? The absence of that damn vibration off that number one prop! Oh yeah. Nice.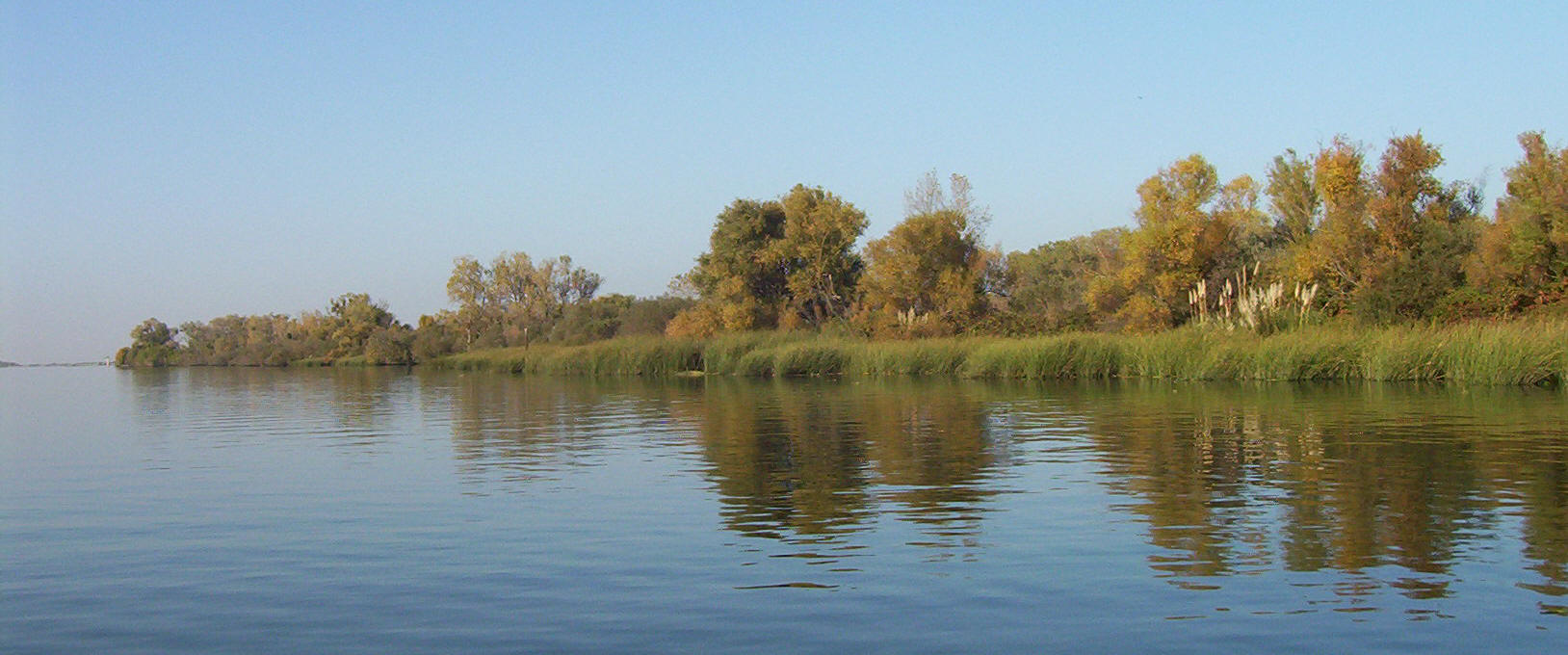 Like I said, your propellers are a mission critical component. Responsible for getting your collective butt's back home. Take the time and effort to keep your screws in tip top condition. Let a professional check them out.
Back to The River Queen Refit.
Mike Wolfe "The River Queen Refit" www.mikewolfe.us