Mike Wolfe "The River Queen Refit" 2005
6638XXX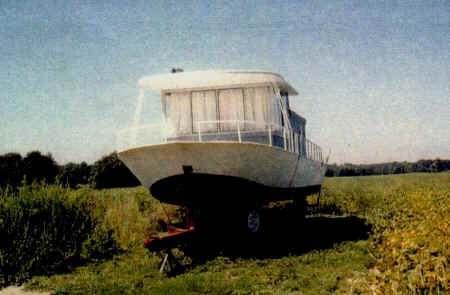 | | |
| --- | --- |
| Size: | 38 |
| Manufacturer: | RiverQueen |
| Model & Accessories: | Houseboat 4'Added Trlr |
| Yr: | 1966 |
| Mtl: | Stl |
| Power: | T165 Merc |
| Drive: | I/O |
| Price: | $15500 |
| File #: | H52207 |
LENGTH 38 FOOT WITH A 4 FOOT EXTENSION ADDED.
MAKE RIVER QUEEN
LENGTH 42 FEET
DRAFT 18 INCHES
YEAR 1966
BEAM 12 FOOT
HULL ALL STEEL WEIGHT 8 TONS NEW 8 INCH STEEL KEEL
ENGINES MERCRUISER RE FITTED 1998
WEIGHT EIGHT TONS
HORSEPOWER 165 TWIN
FUEL GAS
TRAILER CUSTOM MADE THREE AXLE TRAILER TO FIT THIS BOAT.
FEATURES
AFT CABIN
ANCHOR
BILGE PUMP
CARPET
COMPASS DEPTH FINDER
GALLEY
REFRIGERATOR
SHOWER
TWO BATTERIES
VHF RADIO
PROFESSIONALLY MAINTAINED
PICTURES ON REQUEST
MARINE SURVEY AUG. 1977
PRICE $15,500.00 BOAT AND TRAILER
PICTURES ON REQUEST - SURVEY ON REQUEST
NEEDS INTERIOR WORK
For More Information
DAVID NICHOLSON
HOME 1-519-676-5336
---
I have other pictures of this boat in my archive, I'll have to dig them out. Seems the older the boat the more it's been modified. If you own this boat please contact me with updated information...mnw : )
Back to The River Queen Registry Form. Back to The River Queen Refit Web Page.