Mike Wolfe "The River Queen Refit" 693753
693753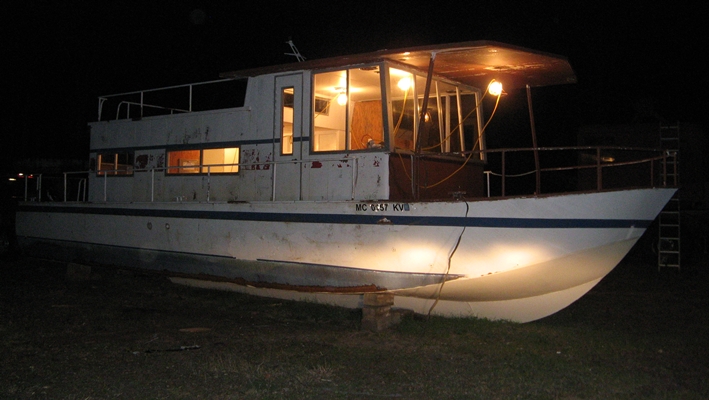 Owner: Josh & Michelle Vink
Name_of_Vessel:
Hailing_Port: Grand Haven, MI
E_Mail_Address: michelle_perri@hotmail.com
HIN: 693753
Year: 1967
Model_Name: 37'
Years_Owned: 4 yrs
LOA: 37
Beam: 11
Fuel_Type: Gas
Fuel_Cap: 120
Propulsion: Mercrusier 3.0 L
Trany_Drive_Props: Apha 2, I/O, Prop TBD
Fresh_Water: 50 gal 2 tanks
Holding_Tank: 20 gal
Date: Wednesday January 20, 2010
Time: 07:25 PM

Tell_us_about_your_restorations
New bottom from bow to forward engine room bulkhead, out to chines, new keel, complete new interior, repower, complete new electrical and plumbing, mechanical, blast from water line below and duraplate epoxy, new windows and stern door
Future_Restorations
install new genny, upholstery, shower and head, galley, blast to bare metal above water line, caulk, paint, hyd steering
RQR_Impressions
We did submit the info above before. Incase it seems familiar. Thank you for giving us a central place on the web for River Queen owners to gather.
---
Thanks for the Picture. Have any of your RQ finished? mnw : )
Go back to the Registry. Go back to Main Page. Go back to the RQ Registry Form.