Mike Wolfe "The river queen Refit" 2005
695016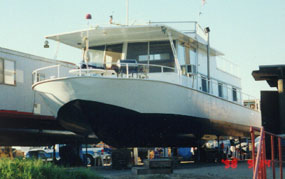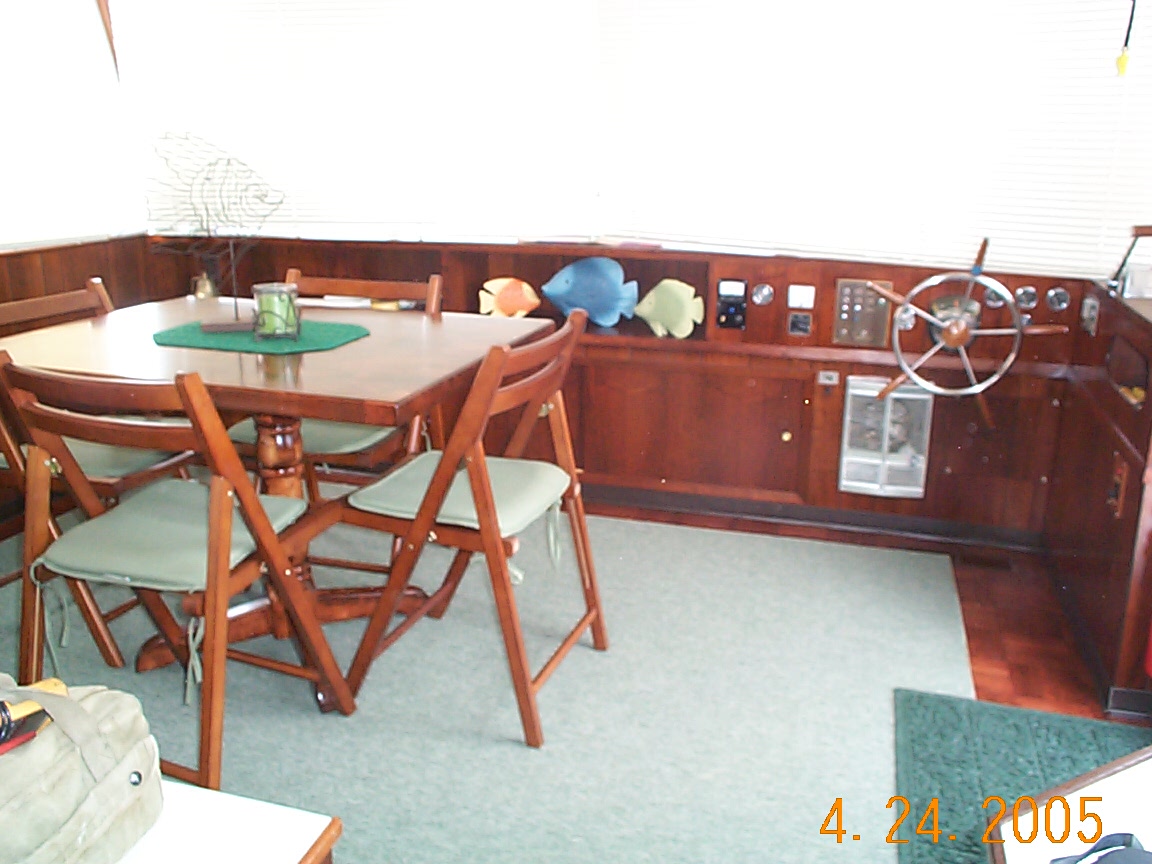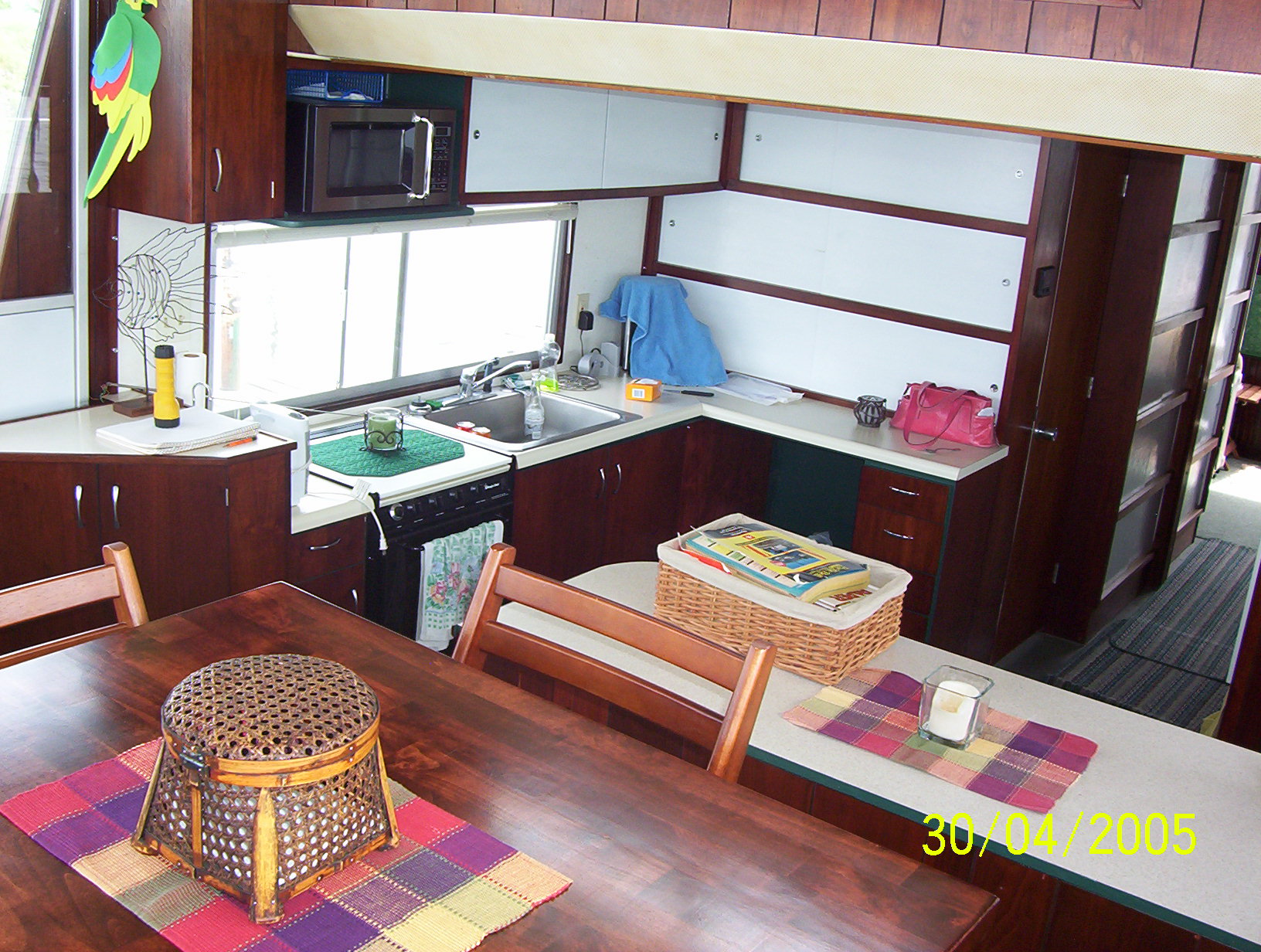 HIN: 69-50-16
Owner_Occupation: Mike and Debbie. Blue coller and hard working.
E_Mail_Address: mike@mikewolfe.us

Name_of_Vessel: The "RQR" (River Queen Refit) It's no name but I use it as a Call sign on the radio.
Hailing_Port: Stockton Ca.
Year: 1969
Model_Name: Unkown. Is there one?
Years_Owned: 8 long years of hard work.
LOA: 50"
Beam: 14"8'
Fuel_Type: Gasoline-Reguler Who can afford super?
Fuel_Cap: 70 gal x 2 New poly tanks.
Propulsion: Twin Chrysler 383's Newly rebuilt. New valve seats and pistons. New bolts.
Trany_Drive_Props: Paragon tranys (inside) Dana 91's w/ 17x17 bronze props.
Fresh_Water: 70gal x 2 plus 15 in the hot water tank.
Holding_Tank: 110 gal New poly.

Tell us about your restorations: Please see chapters 1 - 31 at www.mikewolfe.us No, really.

Future Restorations: The rest of the boat. It's a complete refit.

RQR Impressions: Keep it growing! New pictures and features needed.
---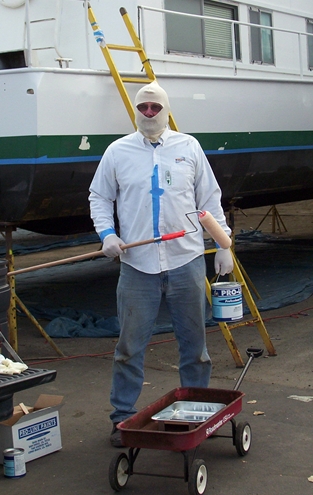 Who is this scary fellow? Yeah, It's me... When your messing with that nasty Coal Tar stuff you need to cover up! It will burn your skin. Using an old wagon to pull your tray of paint around works real good! Of course the wagon was trash afterward... mnw : )
Go back to the Registry. Go back to Main Page. Go back to the RQ Registry Form.
Some great letters I have gotten...
Hi Mike,just finished reading your saga on the Queen,and I would like to extend a hearty "well done" for the work,and a large "thank you" for sharing your story.I retired in 2005 and started looking for a steel hulled house boat in a four state area of Alabama,Georgia,Tennessee,and Kentucky. I saw alot of boats that had potential,but in every case the price was far greater than I was willing to pay for a p o s that would require the amount of money and work that you invested in your boat.You didn't let practical matters deter you from tackling your dream project because your brass balls probably weight more than your brass props.Me,I've got little BB balls,so I settled for a little 34 foot fiberglass house boat made by an Alabama boat works about 50 miles from my home in Jemison,Alabama.It ain't a River Queen,but it is a nice little boat just the same.I keep in on the Coosa River near my home,and to my knowledge,there are only three houseboats on Lay Lake.The other two are steel hulled boats,and are docked where mine is kept.I became friends with the owners and offered free help to both of them on haul out.The owner of the 50 foot Seagoing took me up on it.We found a trailer that that belonged to a man who has a 50 foot Stardust Cruiser on the lake down river from us.He was gracious enough to let us borrow it for a two week haul out.Ha ha, two weeks my ass,more like two months.To make a long and painful story short,we got the boat out after much work and discovered the hull was consumed by electrolysis.After seeing the damage,Joey,the owner,wanted to be completely rid of the boat.Having always wanted a steel hulled boat,and being the dumb ass that I am,I agreed to take it off his hands for a "song."Bull shit,it cost me around 7 boat dollars to even get it moved just up the road to where I could crib it up and get it off Buddy's trailer.After getting it off,I found that the haul out has bent the trailer frame and destroyed the bunks.Guess what-more boat dollars and much work.I retired as a pipefitter welder,so the metal work I did myself.After another boat dollar to return the trailer to Buddy,I decided I would price the 10 gauge metal required to re-skin the bottom.When I came to after hearing the price for the metal,I decided that the money pit could sit on the timbers and I and my retired friends would use it as a beer parlor.After reading your story,you have given me the courage to do some more reflecting about tackling the re-skin project.Thank you for some good reading and much information.Hope you continue to add chapters to your boat project.If I do decide to start on mine,don't be surprised when I bug the shit out of you for info and advice.I do have your email address you know.Thanks again,Skip Ward

---
Dear Mr. Wolfe,
I enjoyed browsing your website. I'm not a River Queen owner, but I've been dreaming about purchasing one and exploring the Mississippi and her tributaries, a several year adventure.

I'm finishing off my 45 year career in engineering and have moved into writing. Meeting folks and hearing tales related to the mighty Mississippi would be exceptional, a sort of modern day Mark Twain. Don't get me wrong, I'll never be a writer of that caliber, but I do enjoy telling stories and the Mississippi holds many stories waiting to be told.

Keep your website open for all of us, even though some of us are only hopefuls.

Daniel Parks
---