Mike Wolfe "The River Queen Refit" 2005
704035

I know, I know. This is an old picture but it has sentimental value.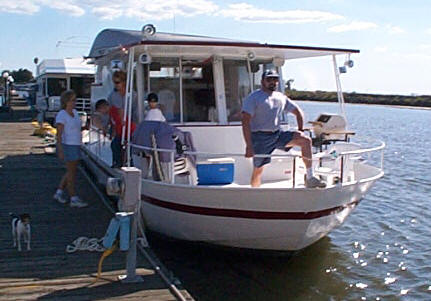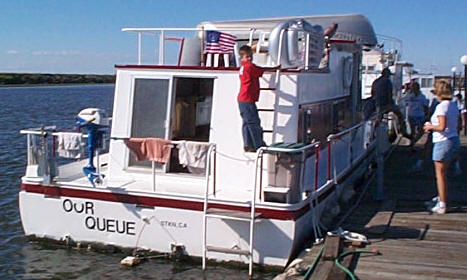 This is my Pal Barry.

I call him Commodore. He seems to have one of every kind of boat. He's a true salty dog and a pirate at heart. (This is a compliment. Arrr!)

All his vessels are ship shape and bristle fashion. When we get together and talk and talk the time away. You know what were talking about. Our Boats!

mnw : )
*******************************************************************************
HIN: 70-40-35
Owner_Occupation: Barry and Elizabeth Ward
Name_of_Vessel: Our Queue
Hailing_Port: Olw Harbor Isleton,Ca
Year: 1970
Model_Name: 40'
Years_Owned: 6 years
LOA: 40
Beam: 12
Fuel_Type: Gas
Fuel_Cap: 60 gal.
Propulsion: CM 225 HP 318 cid V/8
Trany_Drive_Props: Dana
Fresh_Water: One @ 40 Gal.
Holding_Tank: 2 @ 20 Gal. Each
E_Mail_Address: beward@copper.net
Date: 01/01/2006
Time: 12:04 PM

Tell_us_about_your_restorations:

Many-Took out forward fold out bed, replaced with futon. changed much lighting over to LED's.

Future_Restorations:

Light remodeling interior

RQR_Impressions:

Great, good tips for all of us. Very good writing I give it a 9.5 (Thanks! mnw )

---
Barry, you see that top picture? It was right before I met you. I came sneaking up the dock and took your picture. I can see you topside working on a rusty spot. The rest as they say is history. Keep up the good work! And I'll keep on writing about it and I'll share all my corporate booty! mnw : )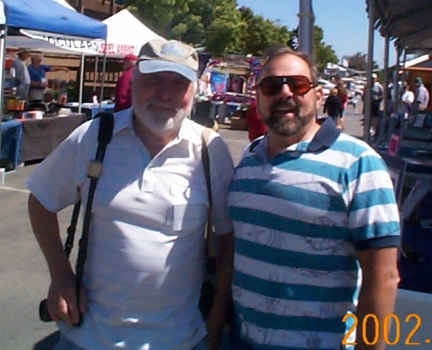 My friends Hal Schell and Barry at a Delta Fest. Tower Park Marina.
Back to The River Queen Registry Form. Back to The River Queen Refit Web Page.