Mike Wolfe "The river Queen Refit" 2005
7143152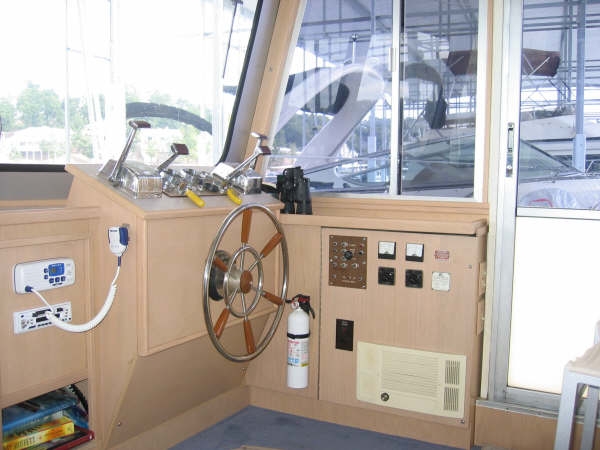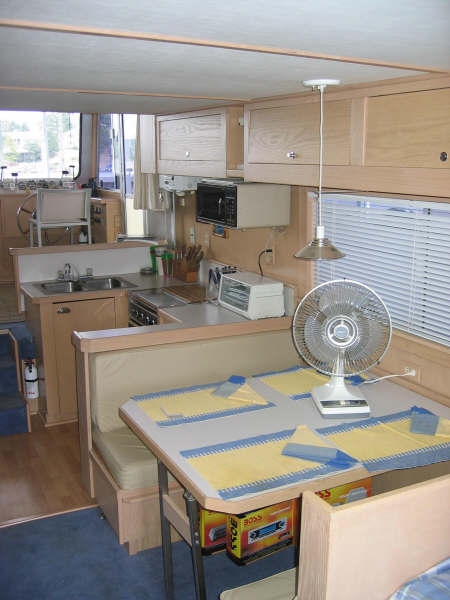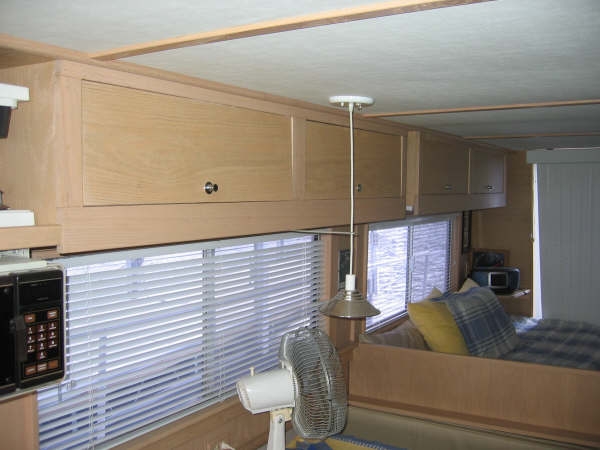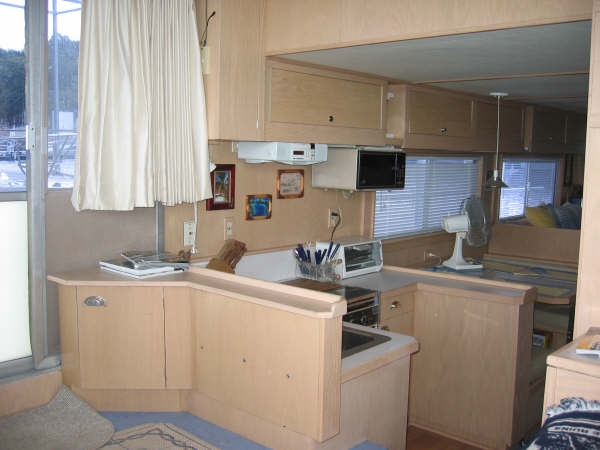 More pictures at the end of this page.
HIN: 7143152
Owner_Occupation: Dave G.-Construction Cost Estimator for Design Build Firm
E_Mail_Address: feathergill@hotmail.com

Name_of_Vessel: Three's Company
Hailing_Port: St. Louis, MO
Year: 1971
Model_Name:
Years_Owned: 12.5 years
LOA: 43.5
Beam: 11.7
Fuel_Type: gas
Fuel_Cap: 160 gal (4-40 gal tanks)
Propulsion: twin Chrysler 318's
Trany_Drive_Props: Paragon V-Drives with 19"x? pitch props LH & RH
Fresh_Water: 1-50 gal
Holding_Tank: 1-40 gal
Date: 12/29/2005
Time: 01:56 PM

Tell_us_about_your_restorations:

New Engines, Replace one V-drive, Rebuilt Onan 6.5kw Genset, complete engine room gut & paint, complete exterior sand & paint both topside and bottom(three times), added fiberglass swim platform and undermount swim ladder, refurbished flybrige(carpet paint, canvas,new dashboard and guages), complete new interior(Headliner, carpet, paneling, countertops, wood trim and upholstery.

Future Restorations:

Just when you think your done it's time to repaint the exterior cabin again and chase some rust issues. I'm going to build a radio/stereo cabinet into the flybridge console this winter. I also have plans to add a canopy over the aft deck to protect it from the summer sun.

RQR Impressions:

It is a great website and I love Mike's writing style....that dry whit he does so well. It's great to read about someone else who has gone through the same trial and tribulations that one goes through in restoring one of these fine old boats
---
A fine boat David! A true member of the "Been there done that" club! I can only hope to achieve the same fit and finish as you. Keep up the good work and please keep us posted on future projects! mnw :)
---
Good Morning Mike.

Thanks for the compliments. Yes I did do all of the work myself. I am an
amateur carpenter/fixer upper. I used your philosophy of breaking the job
into small segments so the boat was always usable during the season. I did
the major projects like the helm during the winter months so it would be put
back together by springtime. It took me 4 or 5 years to get the interior
all done. Unfortunately I put the carpet in early on so it is already about
worn out! I did some things backwards like replacing the headliner last
instead of at the beginning. She use to have a convertible sofa in the rear
stateroom like the one in the salon but I got tired of sleeping on a lousy
mattress so I built the captains berth with a nice firm mattress and storage
drawers underneath.

I tore out some of the existing paneling but mostly I just overlayed what
was there with oak plywood and used oak trim throughout. I used minwax
"Summer Straw" stain and 3 coats of minwax semigloss polyurethane finish. I
use the poly that cleans up with soap & water. This is the only way to go as
far as I am concerned. I used oak because it is a relatively inexpensive
hardwood and readily available at the big box home improvement stores. I
overlayed existing plastic laminate counters with new laminate and sprinkled
in some solid oak tops in areas that don't get wet.

She use to have sliding overhead cabinet doors which were functional but
didn't look very nice. I added 3/4" oak face frames to the cabinets & and
inset 1/2 oak plywood doors on concealed spring hinges that I found at Home
Depot. They open up to the ceiling like aircraft storage doors. I found
some push to latch knobs on the internet like Searay and other boat builders
use for cabinet knobs. I still haven't put the latch keepers on the inside
of the cabinets because gravity seems to work pretty well. That job has
been on two or three winter to do lists. Maybe I'll get to it this winter!

The last thing I did was reupholster the sofa & dinette cushions. The
original upholstery was original and held up well for 33 years but it was
very outdated. It really was the finishing touch.

Last winter I had a new flybridge dash panel made at a plastic engraving
shop & replaced all of the guages. The years of weather exposure had taken
it's toll on them. I learned that its amazing how misplacing one little
wire can cause a major electrical short on that project. This winters
project to build a radio cabinet in the space between the port & starboard
flybridge dash boards. I'm using 1/2" Kingstarboard white plastic sheet
material so it will be impervious to rot and uv exposure. I have a prelimary
design on paper but it will probable change some during construction as most
project do. I'll take some pics along the way & forward them on to you.

Another project on the boards is a canopy over the aft deck. I am in a
covered slip but the stern is facing south so the sun eats up the paint
finish on the aft cabin pretty quickly. I could hang a screen form the dock
roof but the canopy would make a nice place to get out of the sun on a hot
summer afternoon. I have a plan to do it out of 3/4" pvc pipe & fittings
with a canvas covering for a few hundred bucks. I don't know if that will
happen this year or not but again I'll take pics if it does.

One word of caution on all of this remodeling is that you need to be
cogniscent of the weight of things that you add to the houseboat. I really
didn't pay much attention and as a result my water line at the stern dropped
about an inch & a half. It really hasn't affected the performance of the
houseboat ( I never run much above 2200 rpms anyway) but I had to paint the
water line higher the last time I did a bottom job.

I would be honored to have the pics posted on your website. Also I would
like to check out your novel so why don't you send me the first three
chapters when you have the time.

Happy New Years, Dave

Thanks for the nice e-mail Dave! mnw :)


Back to The River Queen Registry Form. Back to The River Queen Refit Web Page.