Mike Wolfe "The River Queen Refit" 2005
7340XXX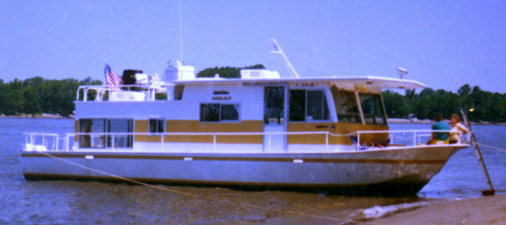 HIN: 7340XXX
Owner Occupation: Once owned by Gene "Bud" & Virginia Shepard Retired. Still looking for the current owner.
Name_of_Vessel: Paper Clip We owned Shepard Office Supply Edwardsville, Il. That is reason for name.
Hailing_Port: Woodland Marine out of St. Charles, Mo We sold Paper Clip 1979
Year: 1973
Model_Name:
Years_Owned: 6 years
LOA: 40 ft.
Beam: 13 ft
Fuel_Type: Gas 200 gal.
Fuel_Cap:
Propulsion: 2Chrysler V8 gas engines
Trany_Drive_Props: V drives
Fresh_Water: 100 gal.
Holding_Tank: 50 gal
E_Mail_Address: budshepard@sbcglobal.net
Date: 01/03/2006
Time: 05:09 PM

RQR_Impressions:

Would like to know who is owner now?

---
Hi Bud. Bud is one of my long term e-friends. Years now. Thanks for sticking with me. See ya! mnw : )
Back to The River Queen Registry Form. Back to The River Queen Refit Web Page.