XX-1972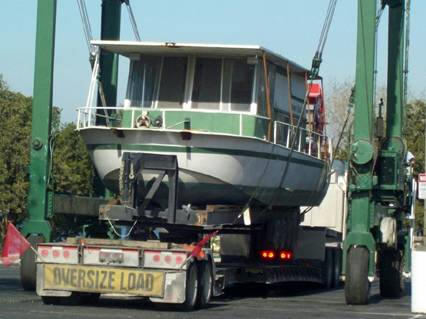 Owner: Gene & Lynda Greene
Name_of_Vessel: Lady of the Lake
Hailing_Port: Lake Travis, Austin, TX
E_Mail_Address: phat1955@yahoo.com
HIN: MCZ5345XXXX
Year: 72
Model_Name: River Queen
Years_Owned:
LOA: 40
Beam: 12
Fuel_Type: Gas
Fuel_Cap: 100
Propulsion: Twin 225 Chrysler
Trany_Drive_Props: Dana
Fresh_Water: 70 gal / 1 tank
Holding_Tank: 95 gal / 3 tanks
Date: Monday January 18, 2010
Time: 04:54 PM

Tell_us_about_your_restorations
Purchased off E-Bay July 2008, purchased and re-fit trailer from Craigs List. Had to remove the Flying Bridge to get her down the highway. Finaly got her home Oct 2008. Removed everything, floor, walls and ceiling. Acid washed hull interior steel and painted with Rustolium Rusty Metal Primer. Reinstalled plywood on floor added 2" blue foam insulation on walls. Re-worked 110v and some 12v, covered the walls with 1/4" plywood as a base. After re-working the layout I laid manufactured hard wood want to be. re-worked the cabin where it meets deck removing some rust reforming a radius so water would no longer create a problem. Built a gang plank from 4"x3" angle mounting to the bow. Built jack pole with boom to rise and lower gang plank with a 9,000 lb winch for the gang plank and a 4,500 lb winch for boom. This is held to the boat with 1" pins. Built a Pilot House frame from 1 1/2" sq steel tube and pre-fit to upper deck. Removed the A/C unit and filled with steel. All the steering, wiring and controls were re-routed to the upper deck. Found a 42" wheel from an old River Boat that ran the Illinois River in the late 1800's Re-worked the power steering to adapt the wheel. Build a paddle wheel from 2 54" hay rake wheels and mounted to the transom with 10" junior channel and 1 1/2" angle for lateral stability. Installed (2) 4" jack poles running 1/2" guy wire with turn buckles to keep the paddle wheel vertical. The smoke stacks are 12" pipe 12 ga. 7 ft tall without pudding (decoration) this will add 2 more ft., mounted to top deck. All had to be removable to travel the highways. I love engineering. We lost our business July 2009, sold it for the debt. We were even as far as money goes $0.00. Listed our home for sale July 2009, while hanging dry wall 9 ft in the air the ladder came down with me on it crushing the heel on my left foot. While still bouncing I said we will sell the house... We did in 45 days of listing. I was in a wheel chair with 9 screws and 7 plates. My wife and friends loaded our trailer and boat with what we were keeping, sold and or gave away the rest. Moved to Austin, TX Oct 2009 leaving the boat in storage. Jan 4, 2010 our boat was delivered re-photos. I can now walk and get back to work. We unloaded boat. You are up to date. See future for the rest.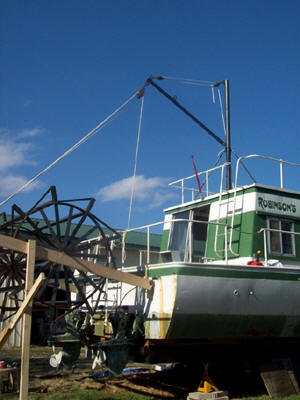 Future_Restorations
RQR_Impressions
I have enjoyed the page and reading other stories. Thanks for having a place for us to go. Gene
---
Wow, thanks for the story Gene. Life is sure loaded with it's ups and downs. Hope your dancing on that foot by now.
So you don't have the "HIN" number anywhere? I'll list you as 1972 till you can find it...
Take care and be safe! Send more pictures if you can? Thanks for registering on the RQR! mnw : )
Go back to the Registry. Go back to Main Page. Go back to the RQ Registry Form.